How to Find a Doctor: Choosing the Right Healthcare Provider for You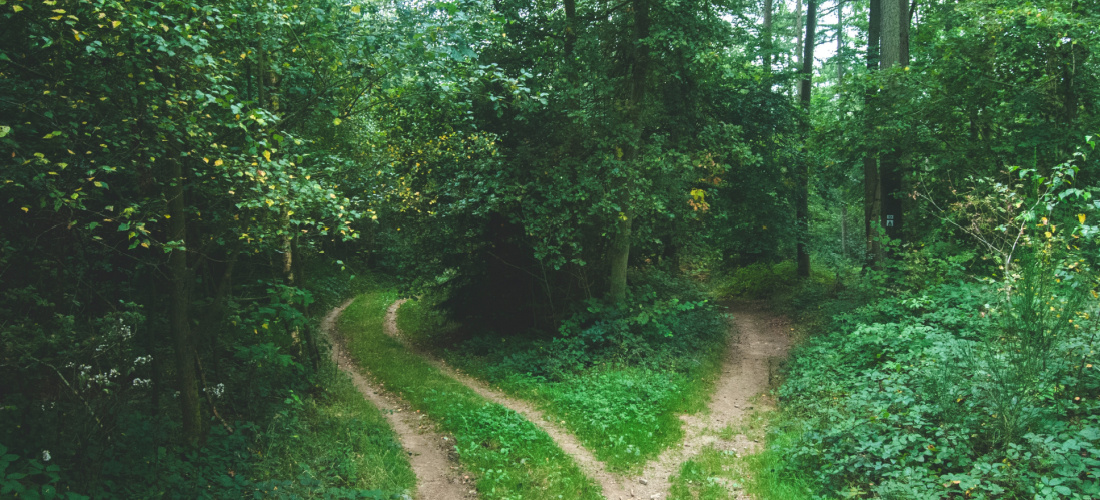 Maybe you have moved, or your healthcare provider retired, or your insurance changed. Whatever the reason for your search, changing primary care physicians or other providers can be a stressful time. This post provides a 5-step process for how to find a doctor, including research and interview tips so you can choose the right doctor for you. And even if you have limited choices, having this information will be a tremendous help as you develop a relationship with your healthcare provider. We also provide a downloadable interview guide to assess if a healthcare provider is right for you.
The process helps you find a primary care provider like a nurse practitioner, physician assistant, internal medicine doctor, or family practice doctor.  Also, you can use this process and the interview tool when looking for specialists you plan to have a long-term relationship with, like Ob-gyns, endocrinologists, and rheumatologists– any specialist you will see regularly.
How do you find a doctor or healthcare provider you can trust 
Start with asking for recommendations from the people that you already trust. Ask your friends, colleagues, and family for recommendations. Then, check that these healthcare providers take your insurance. Once you have your list of recommended healthcare providers that accept your insurance, you are ready to get started with the next phase of research.
What factors to take into account when choosing a healthcare provider? 5-step process 
1-Credentials
If you only have time for 1 step, make it this one!
How to find a doctor begins with looking up the following credentials for each of the doctors on your list: licenses, malpractice suits, education, and board certifications,
 The Federation of State Medical Boards (FSMB) website contains the essential information on the license, education, and board certification. Use the DocInfo.org search function. This step is critical in the process of selecting a healthcare provider. Type in the doctor's name, and the tool serves up the doctor's board certifications, education, states with active licenses, and any actions against the physician or physician assistant.
Here is a sample of search results with Docinfo: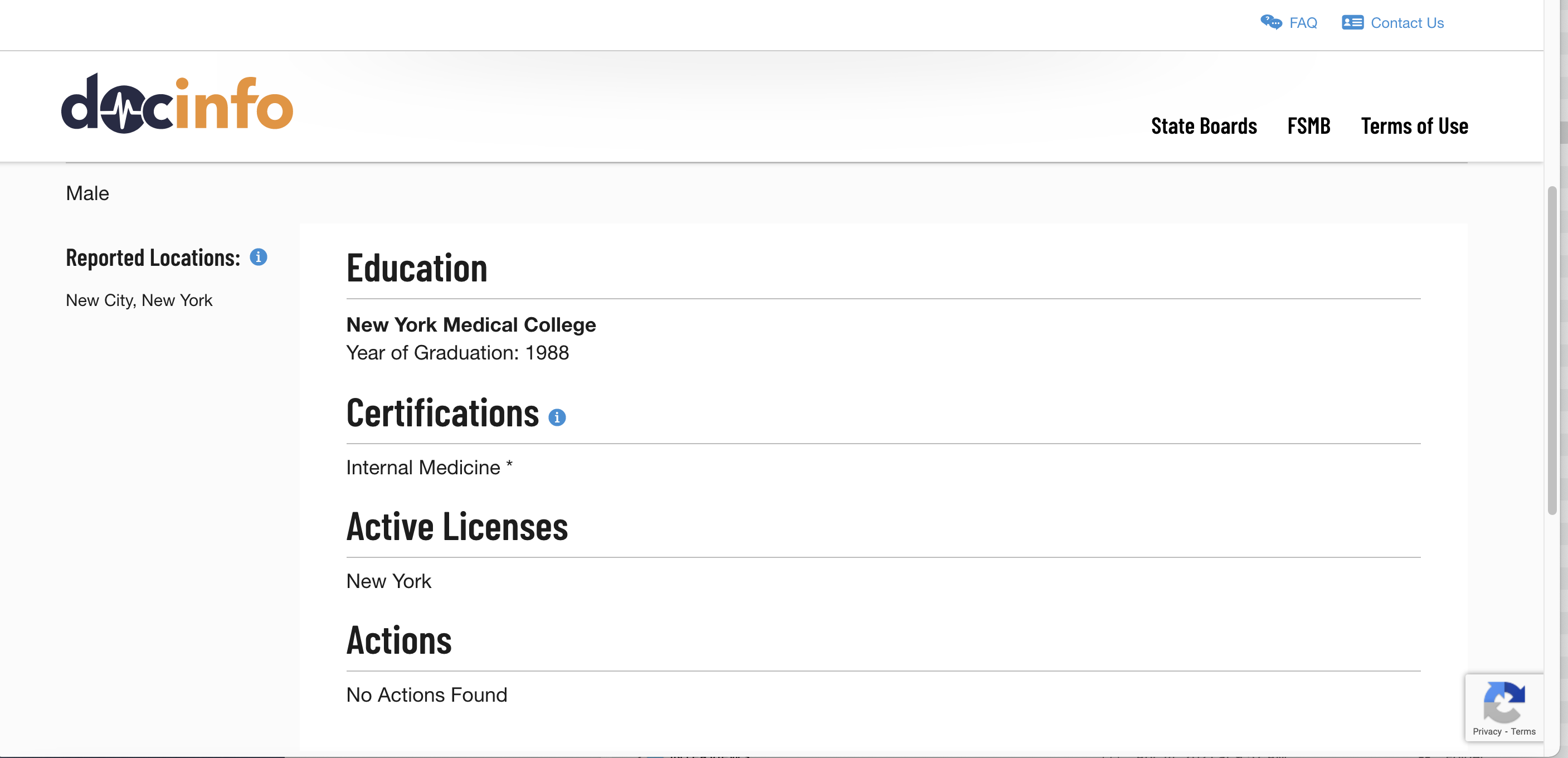 To verify an individual nurse practitioner's certification, contact the American Nurses Credentialing Center and ask for the Certification Specialist. Call 800.284.2378, Monday to Friday, 9:00 a.m. to 5:00 p.m. EST.
2-Logistics
Check online for basic information on practice location and hours of operation. You'll want to choose a practice that is easy for you to access. Is there ample parking? If you take public transportation, check if the office is near a train station or on a convenient bus route.
3-Practice Website                                                                                                 
Does the practice have a website?  If they do, give it a read and look   for the following information:  
Group practice?  

Are there other doctors listed as partners in the practice?

Multi-specialists? 

Do they cover more than primary care?  (OB-gyn, dermatology, etc.) 

This may be of interest to some of you who would like to keep all of your care within one sizeable multi-specialty practice.

 (If relevant) What languages are spoken in the practice?

Hospital affiliations:  look to see if they list the hospitals where the doctors have privileges. 

Note: some primary care providers may not have hospital privileges in regions where hospitalists provide inpatient care.

Lab work, x-rays, and MRIs:  Check to see if they have in-office capabilities for lab-work and x-rays; many offices do.  

If not, find out the labs and imaging practices that they use; and check to make sure that these are in your network and covered by your insurance.
4-Interviews
If you like what you see in the four steps above, consider having an interview appointment with the healthcare provider. These appointments are generally not covered by insurance, so this is an investment–meaning you will need to pay for these "out-of-pocket."  When you call, ask for a consultation appointment. If you were to meet in person, it would be in the healthcare provider's office or an exam room.  Download our interview guide, How to Interview and Assess a Healthcare Provider, to guide you through this process.
What questions to ask a new doctor or healthcare provider? 
The interview guide provides a comprehensive selection of questions. You want to understand their communication style, how well they listen and how accessible they will be once you are their patient. Download How-to Interview and Assess a Healthcare Provider: Find out if a healthcare provider is right for you.
If you don't have the resources for this investment, you can gather valuable information by calling the office to ask a few logistical questions of the office staff. 
Tips for questions to ask the office staff
These questions and more appear in our complete interview guide; How-to Interview and Assess a Healthcare Provider:  Find out if a healthcare provider is right for you. 
How far in advance do I need to make an appointment? For primary care, how long in advance do I need to make an appointment for my annual physical?

What if I need care "After hours"? What is the process, and how can I reach the team?

Can I reach you by email if I have questions, or do you have a patient portal that I can use to communicate with you and the healthcare providers?
During this call, make a few mental notes:  is the staff member courteous? Helpful?  Can you see yourself enjoying or being satisfied to interact with the staff?
5-Choose a doctor or healthcare provider
With the information from steps 1-4 in hand, it is time to make your selection. Reflect and ask yourself the following questions:
Did the healthcare provider and office staff give me a chance to ask all of my questions?

Was the healthcare provider and/or office staff listening and giving thoughtful answers?

Are the healthcare provider and the office staff available; do I know how to reach them when I need them?

Is the practice conveniently located?

Does the healthcare provider have the necessary credentials? Is he or she free of malpractice issues?
We know that not everyone has the same level of choice 
Some of you will have many choices, while others will have only one or two providers to choose from based on differences in geography, insurance, and the size of the available in-network providers. Whatever your level of choice, this guide will equip you with insights so you can build a relationship that results in the best possible care for you.
Guidelines for choosing a healthcare professional                             
Therefore, by following the guidelines in these 5-steps and using the questions in our interview tool, you will learn a lot about a healthcare provider before your first visit.
Protip: Find the right doctor for you
[Thank you to Betsy Bennett, PhD of Clarity Consulting, Llc, for her contribution to this blog post]
For more tips and tools from healthcare insiders, become a subscriber.